The National Personal Training Institute of AZ and NASM Advantage
The National Personal Training Institute  is an academic partner with the National Academy of Sports Medicine (NASM). We have integrated the 7th edition personal trainer certification (CPT) into our curriculum to give our students yet another source of knowledge to add to their education.
Over the course of ten weeks, we go over the 7th edition NASM CPT to prepare our students to take the exam after graduation, if they so choose. The NASM 7th edition book is included with tuition, however the exam fee is not included. Students who want to take the exam, will receive a 40% discount off the exam fee, as well as many other offerings from NASM. 
Due to time restrictions, and the diversity of the National Personal Training Institute educational program, not all NASM Certification material will be covered. It is strongly recommended to read the NASM 7th edition textbook and take time to do your study of the material before taking the certification exam.
Our Diploma and NASM Certification
The benefits of the diploma program goes well beyond classroom education. National Personal Training Institute is dedicated to bringing education to life through hands-on application and real gym time personal training experience.
Students who graduate with a Master Personal Trainer Diploma and acquire an NASM certification have a higher rate of success in the fitness industry.
NASM-CPT Hands-on Prep Program
This program has been created to instill confidence in new certified personal trainers. Not just confidence in what you read, but what you learned in the gym where the most important education lives. This program will also give you confidence in taking the NASM-CPT exam. You need 70% to pass. Approximately 60% of first-time exam takers pass the first time. We want to make that 100%!
What's included? Since we are academic partners with NASM and already teach it in our 220-hour Master Personal Trainer Diploma Program, we are offering the Premium Self-Study NASM-CPT with this program. Click this link to see what's included https://www.nasm.org/become-a-personal-trainer#matrix. You will also receive a retest voucher ($200 value). So how much is this NASM-CPT hands-on program? There are two payments. One for the Premium Self Study with the retest voucher, which is $829, and one for the hands-on addition which is $399. Total cost of this program is $1,228. Students who go through this program will get discounts to our CEU's, workshops, and certification courses. We can also help with job placement. We know some people.
Next start dates are October 5th, and January 4th. Saturday classes coming soon!
NASM Premium Self Guided CPT Certification Only
If you just want to take the NASM Premium Self Guided CPT Certification for now, take advantage of our discounted rate above.
---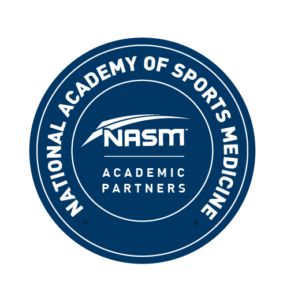 Personal Training Certification
---